Hercules Adaptive Phone/Tablet Holder First Look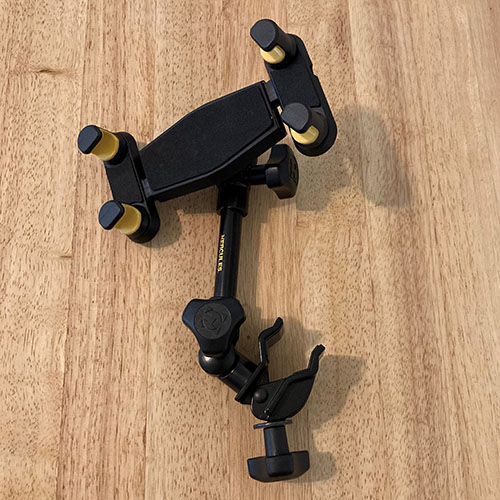 The Hercules DG307B combination phone and tablet holder has arrived! Here are the first thoughts on this awesome new piece of gear.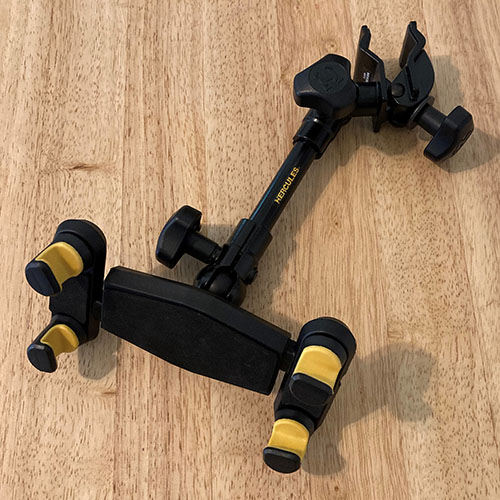 What is it?
A single device holder that can secure a smartphone or a tablet
Why is it cool?
The DG307B allows you to mount any tablet and most smart phones to just about anything! The powerful clamp is designed to attach to a mic stand, but it will easily attach to a music stand, desk, chair, you name it.
The spring loaded holder securely attaches to your device without risk of damaging it and can expand to accommodate up to 13″ in width.
The 360 degree ball joint allows you to adjust the device to any angle for optimal viewing,
It can be attached to a tripod without using the clamp by utilizing the 1/4″-20 threaded hole in the rod.
The oversized knobs are easy to grip and tighten
Why do I need one?
To have hands-free access to your device no matter where you use it! Musicians using a tablet instead of paper sheet music will find this ideal, especially if you are already using a microphone stand anyway. Vloggers or podcasters who use smartphones as video cameras will also enjoy the versatility of being able to set the camera at the exact right angle (and not have to bribe a friend to be your camera operator).
What are the limitations?
As with any product, there are some limitations or other considerations. While most of the DG307B is metal, there are some plastic parts. These are limited mostly to the knobs, but the 360 degree ball is also plastic. Long term this may wear down, but with Hercules' reputation for overbuilding things this is of minimal concern. Bottom line: it has metal where it counts. The overall unit is a bit on the bulky side, but again knowing Hercules this is not a bug but a feature. As with all their products bulk is second to durability and this device holder is no different. And finally, if your smartphone is on the smaller side it may not be held as securely as you would like with this unit. If your primary use is to hold a phone and not a tablet, the DG207B may be a better fit for your rig.
What's the verdict?
If you require hands free use of a tablet or smartphone you need this unit. It will exceed your needs for durability and functionality. If you do not already have one on order, get your DG307B and see what you have been missing.