What's Cooking at The Mayor of Old Town: Mayor Mac and Cheese!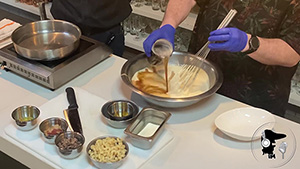 Making a great video does not have to be complicated or involve lots of expensive gear that you need a degree in electrical engineering to use. To demonstrate how easy it can be to make video content that is informative and engaging, we partnered with The Mayor of Old Town here in Fort Collins, Colorado to make two cooking shows with recipes right from their menu! This video features The Mayor' Mac and Cheese! The cheese sauce is made with a black and tan and the dish features Anaheim chilis, slow cooked (in beer) beef and… bacon! Like people who don't enjoy bacon, if you haven't tried this dish yet you're wrong.
After the main presentation is a behind the scenes video showing the gear we used and how we set it up. The whole shoot was done with just two smartphones and two wireless systems (plus stands and phone holders)! If you're interested in learning more about how to create video content like this for podcasting, vlogging, or remote teaching, contact us at www.ThePodcastingStore.com. And if you like what you see hit the subscribe button! You'll never miss a new video again!
GEAR USED TO MAKE THIS VIDEO (two of each setup)
Galaxy GT-V Wireless System
Vastar Universal Phone Holder
UGHLA Lightning to 3.5mm adapter
Get this setup here (iPhone not available from The Podcasting Store)